Based in Cheshire, One Red Shoe have been
designing and hand painting murals for over ten years.
Our background in illustration, art history and fine
art, combined with a fine-tuned research and design
technique, delivers a consistently high quality product.
'We count creativity and imagination
as our main priorities and have
the experience and knowledge
to produce original artwork with a
big impact and long lasting appeal.'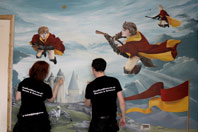 We paint murals and artwork throughout the North West area: Cheshire, Liverpool, Manchester, Chester, Lancashire and have been known to travel to the Midlands and 'down South' on occasion.
Prices are based on a daily rate, there are 2 artists so we do get a lot done comparatively quickly. We work to any budget.
One Red Shoe are available for workshops and community projects with CRB certificates and full insurance.
*
Consultation with the client is the first step:
Whether they have a very specific idea, a loose direction
or an open brief.
Research into the project may include: reference
photos and sketches, types of paint and materials, the
wall surface assessed, public safety issues, equipment hire
and so on.
Design work is key to a successful outcome.
The client receives a design board showing a realistic impression
of the mural in situ, often near identical to final photographs
of the finished work. Achieving the right design is as important to
us as it is to the client: time spent in the studio saves time on site.
Painting begins on approval of design and quotation.
Sensitive to the fact that we are the client's guests in their home
or business, we maintain a professional presence and are fully
insured for Public Liability. Floors and surfaces are protected
before applying any colours. Once completed, a glaze or varnish is applied for long term protection.
*
E-mail or phone: 01925 266463
for more information or a quote...